About Us
MEH Consultants (P) Ltd. is a consulting company duly registered with the concerned Ministries and Departments of the Government of Nepal to render consulting services in Engineering, Health, Education, Agriculture, Forestry and other sectors. The company has been established by senior professionals who have been actively engaged in consulting profession since the last four decades. Professionals at the company have the experience of successfully executing a number of projects, in various disciplines, while working together with other national and international organizations are the core strength of this Company. Presently, there are 28 full-time professionals and 21 support staff (most of them are shareholders of the company) and 22 seniors professional, 26 technical supports and 10 other administrative support staffs are working in the company as a contract basis.
The company believes in Development through Participation. It aims to bring together talented multidisciplinary professionals to render quality services and contribute to the mainstream national development activities.
The Company provides various services in water resources, energy, infrastructure and natural resources, community development, and health services ranging from conceptual planning to feasibility studies, investigations, design, implementation, and operation.
Click here to download our full Company Profile
Board of Directors

| | | |
| --- | --- | --- |
| Managing Director | Mr. Shyam S. Sharma | (Civil Engineering/Procurement) |
| Directors | Mr. Govinda M. Tamrakar | (Civil Engineering) |
| | Mr. Ram Prasad Bhandari | (Public Health) |
| | Mr. Kedar M Shrestha | (Civil Engineering) |
| | Mr. Niranjan Tamrakar | (Civil Engineering) |
| | Ms. Vidhya Laxmi Prajapati | (Architect) |
| | Mr. Dipak P Upadhyay | (Electrical Engineering) |
Organizational Chart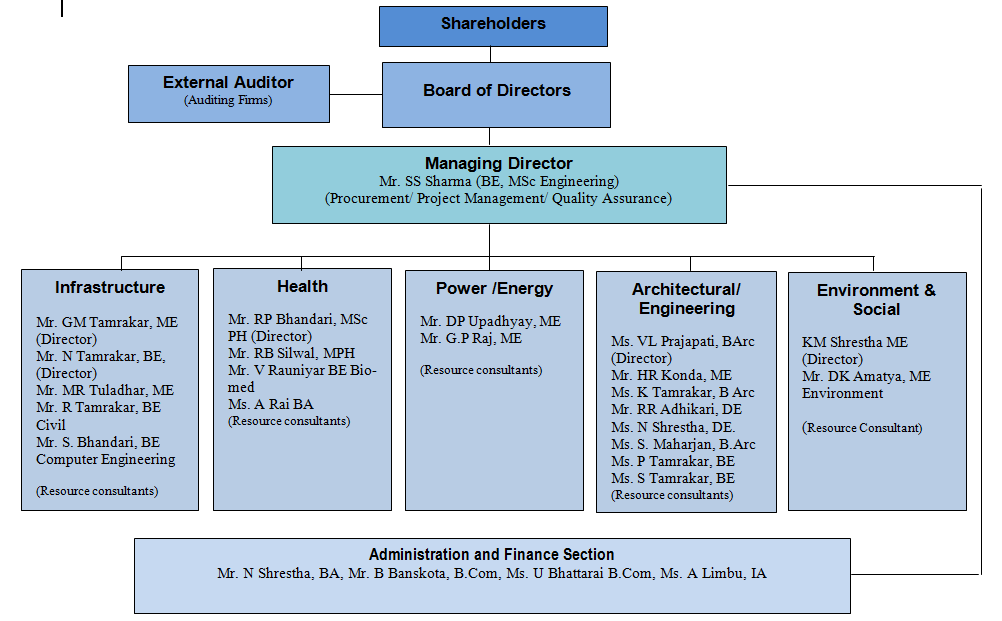 Registration
We are registered with The Company Registrar's Office (Regd. No. 7474/054/055); Ministry of Industry, Department of Cottage and Small Industries (Regd. No. 1022/84); Department of Taxation, (PAN 500039786); Office of VAT (500039786); Society of Consulting Architectural and Engineering Firms (Regd. No. M-38); Asian Development Bank (CMS No. 005656), The World Bank (Vendor Registration Application Number 35504).